Pet CPR + First Aid Course & Certificate
ALL PROFITS WILL BE DONATED TO WYLIE ANIMAL SANCTUARY
About this event
Pet CPR & First Aid Course For The Busy Pet Owner
Pets are part of the family, and just like learning First Aid and CPR skills for humans lets you care for your family, learning first aid for your dogs can help you save their life! Not every illness or emergency is always preventable, so it's important to know what to do (and what not to do) for your pet until you can get to the vet.
This unique course is more than a class: we'll share the skills, resources, and knowledge you'll need to protect your pups in the real world. All while making a difference in a shelter dog's life!

ALL net profits for this course will be donated to WYLIE Animal Rescue, an all-volunteer organization with no paid staff, where every penny donated goes toward helping animals.
At the end of this course, you'll have
A copy of our Pet First Aid Handbook
A personalized certificate
A copy of our Pet Assessment Worksheet
The skills to keep your dog safe and healthy!
What You'll Learn
First Aid Skills
From broken toenails, vomiting & diarrhea, to life-saving skills for heatstroke, bleeding, car accidents, and more. You'll learn to deal with them the right way, and what to look for before they become a problem.
Choking
A choking animal is only minutes away before it's fatal, so there is no time to search the internet for the best technique. Learn how to recognize and treat a choking pet, whether it's conscious or unconscious.
CPR
Learn how to perform CPR on your dog, read their vital signs, and ways to prevent and see the signs of illness before they become a problem.
Toxic Plants & Foods
Did you know that dogs often get sick after walking through hazardous chemicals or items and then licking their paws? This makes treating pet poisoning more difficult to treat. Learn many of the common poisons and then how to recognize a poisoned pet, plus how to deal with it.
Must-Have Apps For Dog Owners
With today's technology, there are countless apps, websites and other tools online for dogs. But is their information accurate? We've gathered a list of great tools that can give you access to comprehensive first aid information, a first aid kit checklist, emergency pet help locator, ICE (in case of Emergency) and a poison directory (just to name a few) at the swipe of a finger.
Snout-To-Tail Assessment®
Dogs cant speak to us when they feel ill, but with this special technique, they can! The Snout-to-tail assessment will help you quickly recognize what is not normal for your pet – the "what hurts/where", so you can help your vet focus on healing your dog, and make better choices for their health. It's so easy and effective, we even trademarked it!
AND MUCH MORE!
Your Instructor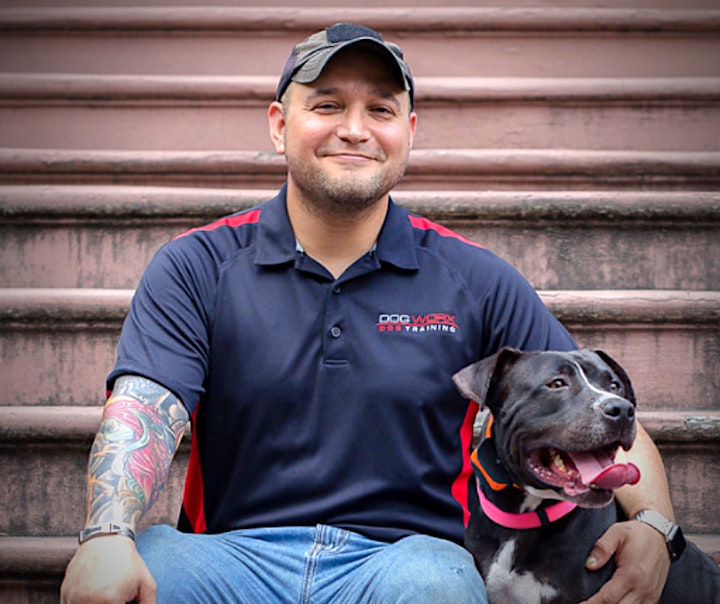 Enrique Marquez, CPTI
My journey in the dog world started in the U.S. Army, where I worked with my first K9 – Niko. little did I know that the moment I held the leash for the first time, that this journey would take me. A journey that helped me learn a lot about the world, but also about myself.
With 20+ years of experience as a professional dog trainer, I noticed that one of the skills we often forget about when we help dogs is helping them stay healthy in body as much as in mind and spirit. Becoming a Certified CPR+First Aid Instructor has given me the chance to close that gap, and to make a difference in not just a dog's life, but the lives of their families.
I look forward to sharing my knowledge, training, and experience with you so that you can keep your pet happy and healthy for years to come.
Enrique is the owner and founder of DogWorx, where has successfully rehabilitated some of the most intense aggression/anxiety cases in the U.S. He is now focusing on helping dogs and shelters by traveling across the USA through his nonprofit, Leash Life Unlimited.
His work has been featured by the New York Times, The Wall Street Journal, NPR Radio, ABC, NBC, and countless other venues. He has been inducted to Facebook's Small Business Council, where he was invited to be a keynote speaker alongside Mark Zuckerberg and Rodney Habib.